Moong Dal Chilla
With Onions and Tomatoes
Regular price
MRP

₹ 150

(Inc. of all taxes)
Sale price
MRP

₹ 150

(Inc. of all taxes)
Regular price
₹ 150
Unit price
per
Sale
Sold out
Unit Selling Price: N/A
An instant mix for a snack time fix! The beloved chilla with added pops of flavours from tomatoes and onions is a wholesome snack and meal, enjoyed by all. It's a meal that usually requires pre-planning and prep, but this chilla batter is an instant mix and easy to prepare when in a fix.

The dal and vegetables making up this mix are sustainably sourced, with 0% preservatives. These nutritious components are organically blended to create a scrumptious meal for all!
A nourishing meal, rich in protein and fibre
Keeps you full for longer
Locally and sustainably sourced
Rich in nutrition, this organically sourced moong-dal chilla batter contains 5-times more protein than the average chilla
Its antioxidants and vitamins are a boon for the immune system, helping it strengthen and fight against diseases
Ingredients: Roasted flours of (Yellow moong dal, Brown rice, Black gram dal, Red Poha), Black Salt, Onion flakes, Beetroot powder, Tomato powder, Roasted Cumin Powder, Coriander flakes, Coriander powder, Roasted Carom powder, Asafoetida. Ginger powder
Shelf Life: 9 months
Country of Origin - India
Share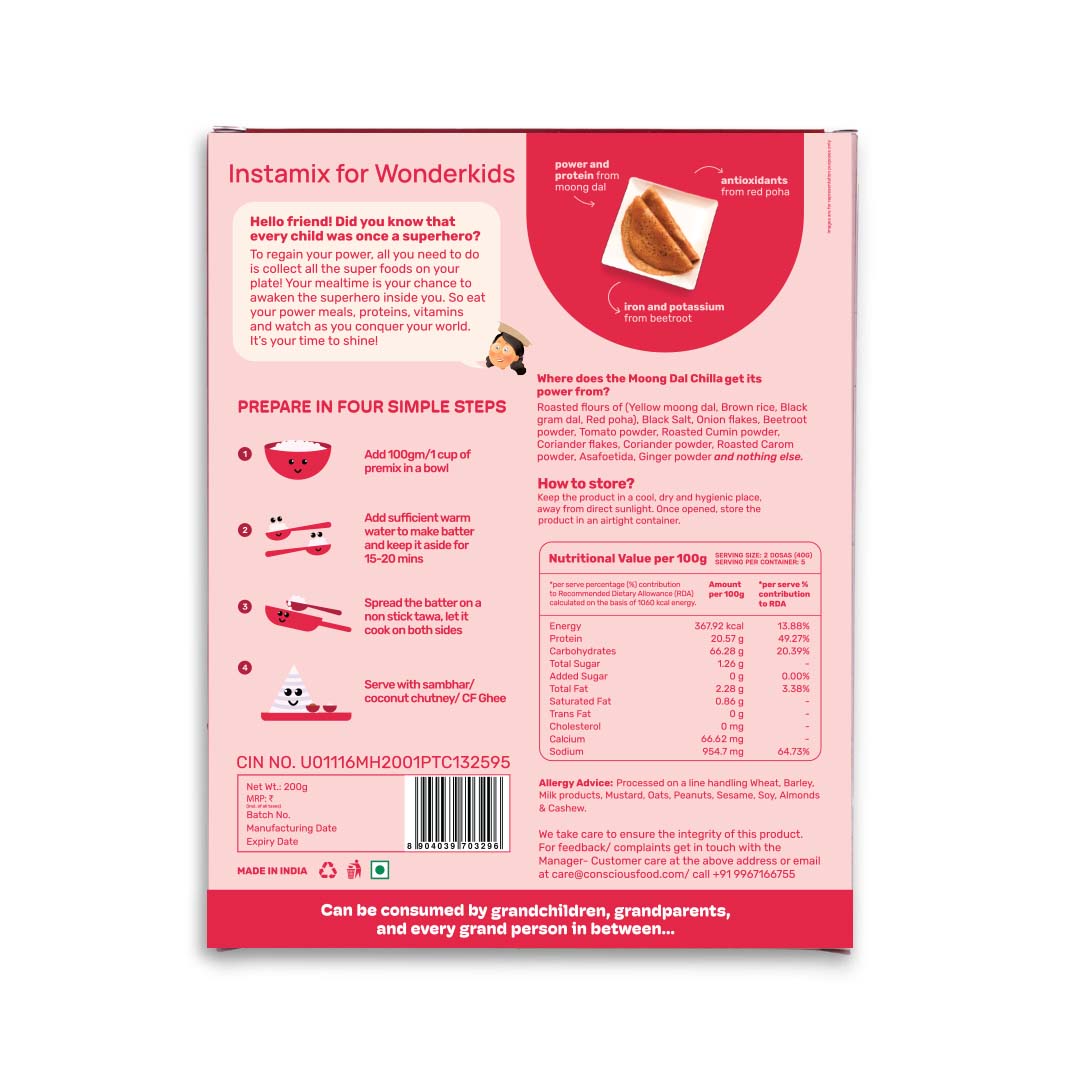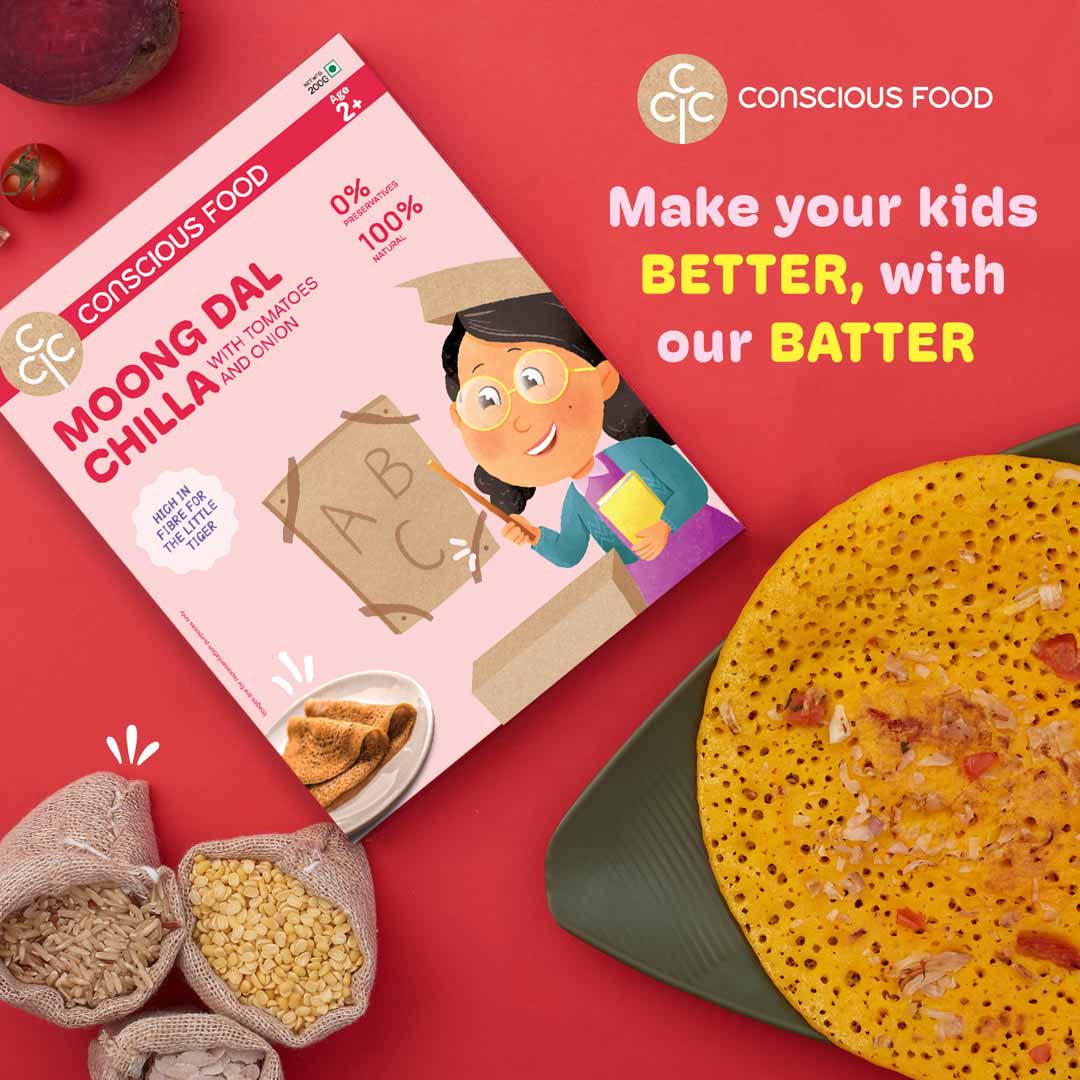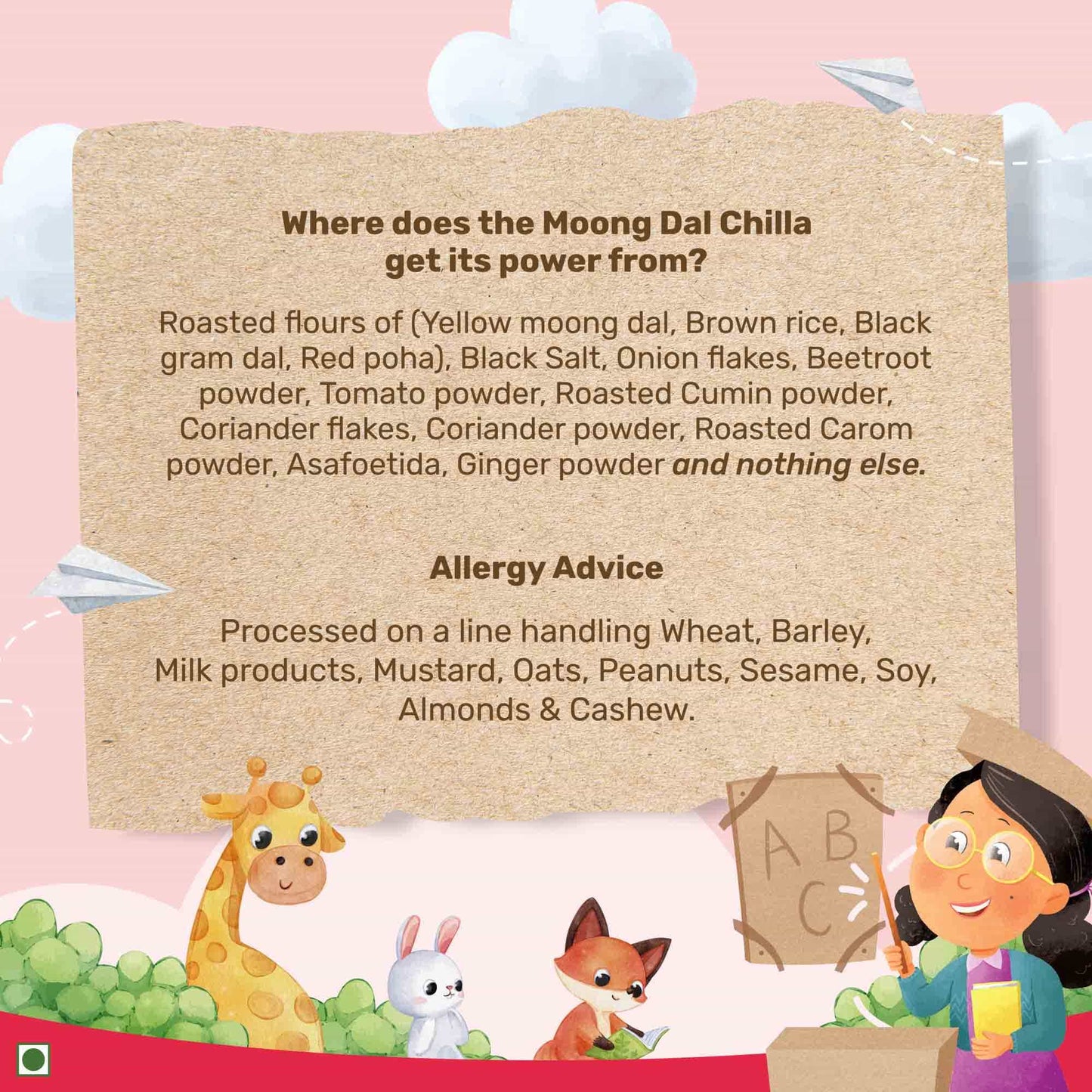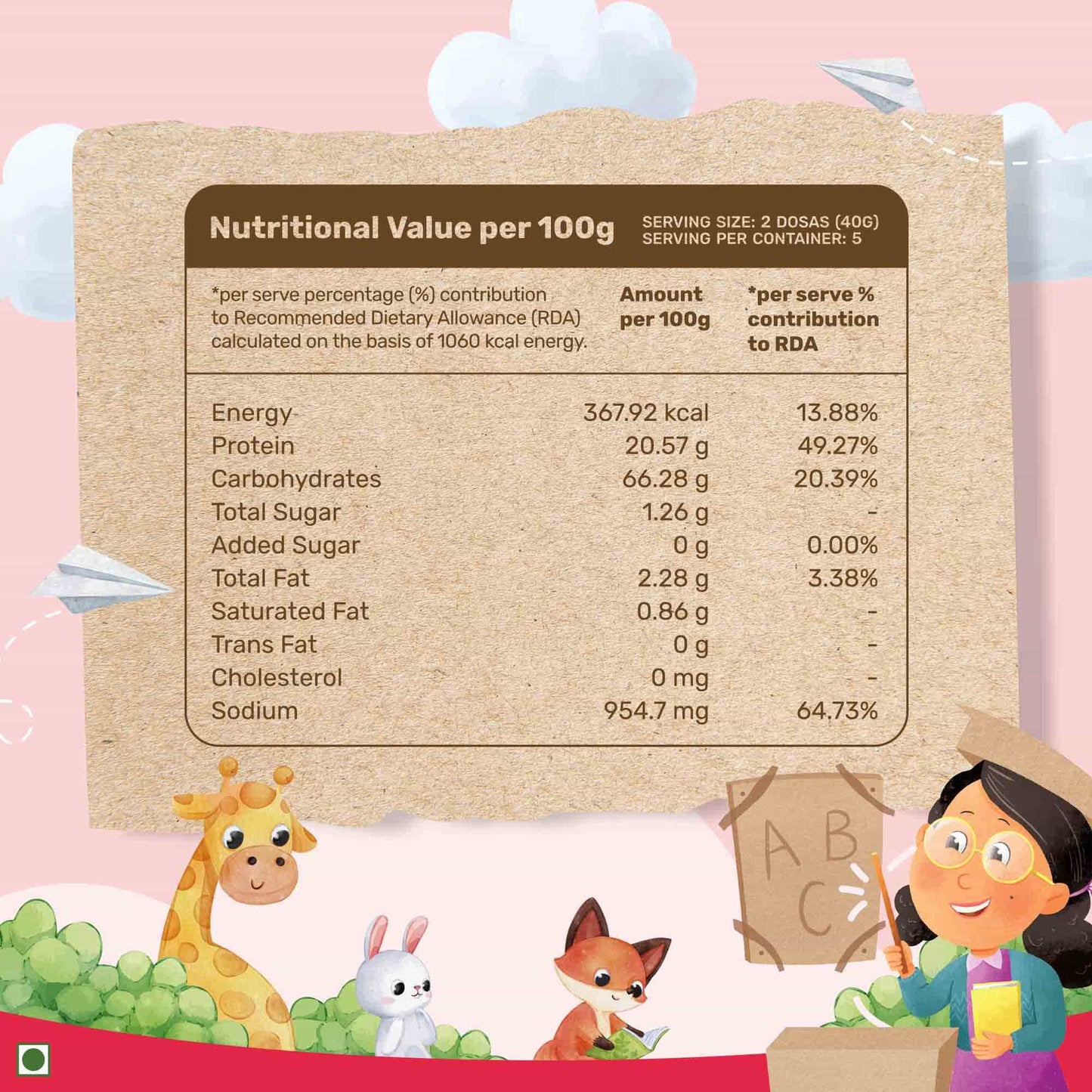 Product FAQs
Our Dosa mixes are handcrafted to suit the nutritional needs of growing little superheroes but they are enjoyed by kids and adults equally
The key to making perfect chillas with batter is to add buttermilk and warm water to the premix and let it settle on the side for 15-20 mins before making the dosas.
Lasts up to 30 days when kept in an airtight container.
Chillas are utterly delicious even without sides , but you can try pairing it with coconut chutney , sambar or ketchup as per your little ones taste profile
Yes we can refrigerate in an airtight container, should be used within 24 hours
FAQ, Shipping & Returns
Where to buy Organic Staples Online?

Organic food helps in improving immunity and improves your health. Conscious Food offers a wide range of immunity boosting products such as Moringa, Turmeric Powder, Spirulina, Gir Cow Ghee, Wild Forest Honey, Amla Powder, Herbal and Masala Tea. Each of these is packed with immunity building properties that help you to detoxify your body and thereby boost health. You can check out several Immunity Booster Foods
Which is the best Online Organic Grocery Store?

Seasonal food and local food is known to be better for health. Conscious Food believes in providing fresh and the best quality food to its users. We guarantee iron-pounded spices, cold-pressed oils, chemical free grains, sustainable and local food, stone ground flours in our online grocery store across India with free shipping on orders above Rs.799/-. We believe in providing 24 hours shipping with efficient customer service. You demand, and we will provide. Work from home and Order online. Let us take care of you.
What are the benefits of Organic Food?

Organic Food has higher nutritive value, free from chemical additives, sustainable. It's natural, whole and unrefined and retains more nutrients than conventionally produced food. Not only is it free from the harmful effects of chemical pesticides and preservatives, it is also free from genetically modified organisms. With growing diseases and health concerns, people have opted for healthy eating through organic food. Organic food is suitable for elders, children, pregnant mothers. It helps the immune system to fight various diseases without the use of supplements. Organic food is preferred for the safe environment practices to keep it clean and suitable for everyone.
What is the difference between natural and organic food?

Organic foods are chemical-free, without any pesticides, without any fertilizers, No GMOs. They are certified and that's why called as Organic Foods. Our food products are ECOCERT certified products. Our Natural Foods are sourced organically and that's why they are wholesome, unrefined & unadulterated i.e. No artificial colors or flavors, No artificial preservatives.
How to boost your immunity?

Organic food helps in improving immunity and improves your health. Conscious Food offers a wide range of immunity boosting products such as Moringa, Turmeric Powder, Spirulina, Gir Cow Ghee, Wild Forest Honey, Amla Powder, Herbal and Masala Tea. Each of these is packed with immunity building properties that help you to detoxify your body and thereby boost health. You can check out several Immunity Booster Foods