Sprouted Wheat Suji / Sprouted Semolina
Protein & Iron Rich | 100% Pure
Regular price
MRP

₹ 102

(Inc. of all taxes)
Sale price
MRP

₹ 102

(Inc. of all taxes)
Regular price
₹ 114
Unit price
per
Sale
Sold out
Unit Selling Price: N/A
Semolina or sprouted suji is prepared by sprouting and drying wheat. It can be used to make puddings and savoury snacks.
Easy to digest
Stay full for longer
Lower Glycemix Index
Local & sustainably sourced
Essential vitamins & minerals
High in protein
High in fibre
Made from durum wheat, which releases energy slowly and helps reduce hunger pangs by giving a feeling of fullness in the stomach
Good for gut health and easy to digest
It is a rich source of iron
It can be used to make puddings and Indian sweets like Halwa
It can be used to make savoury foods such as upma
It can also be added to Rotis/dosa/idli batter
Ingredients: Sprouted Semolina
Shelf Life: 5 months
Country of Origin - India
Share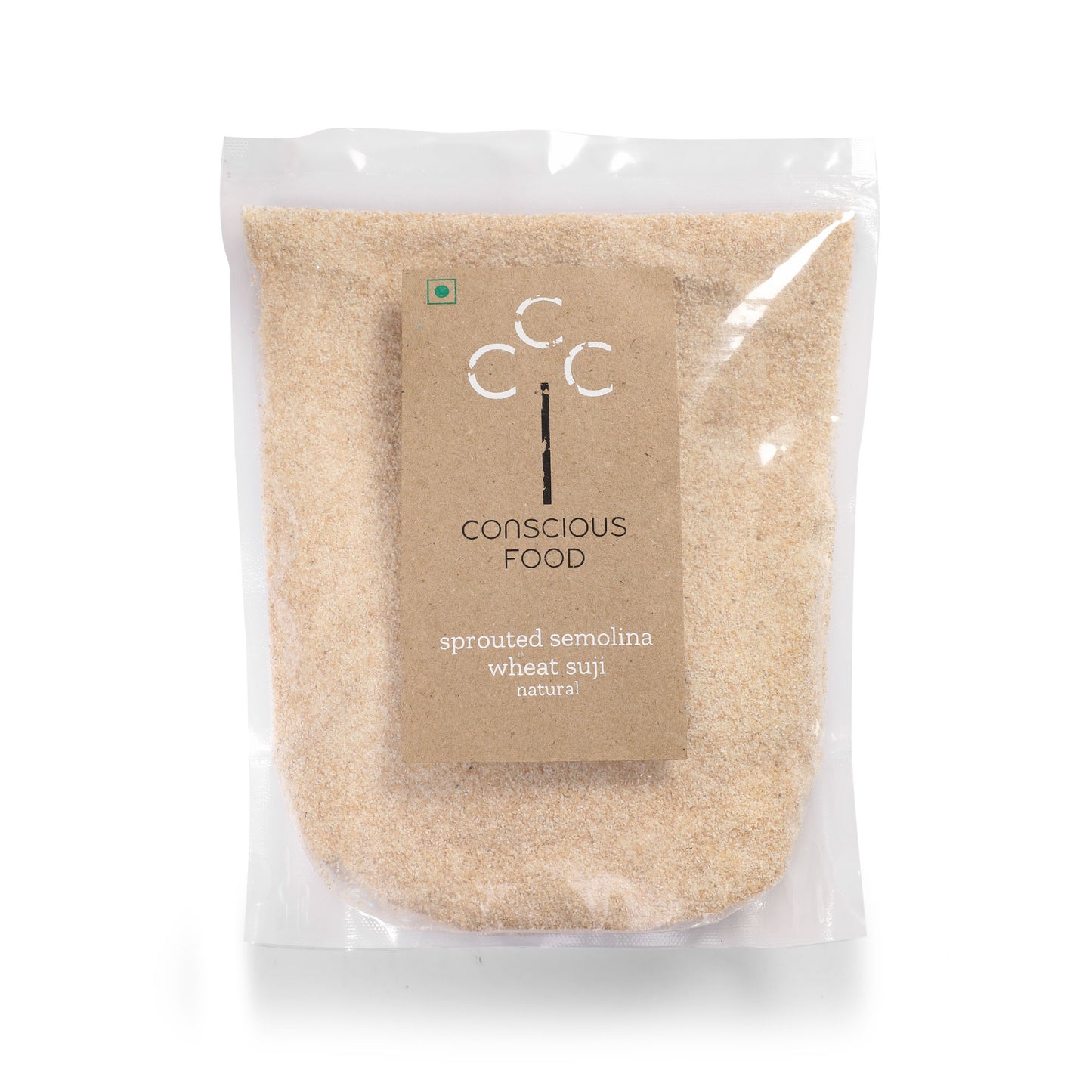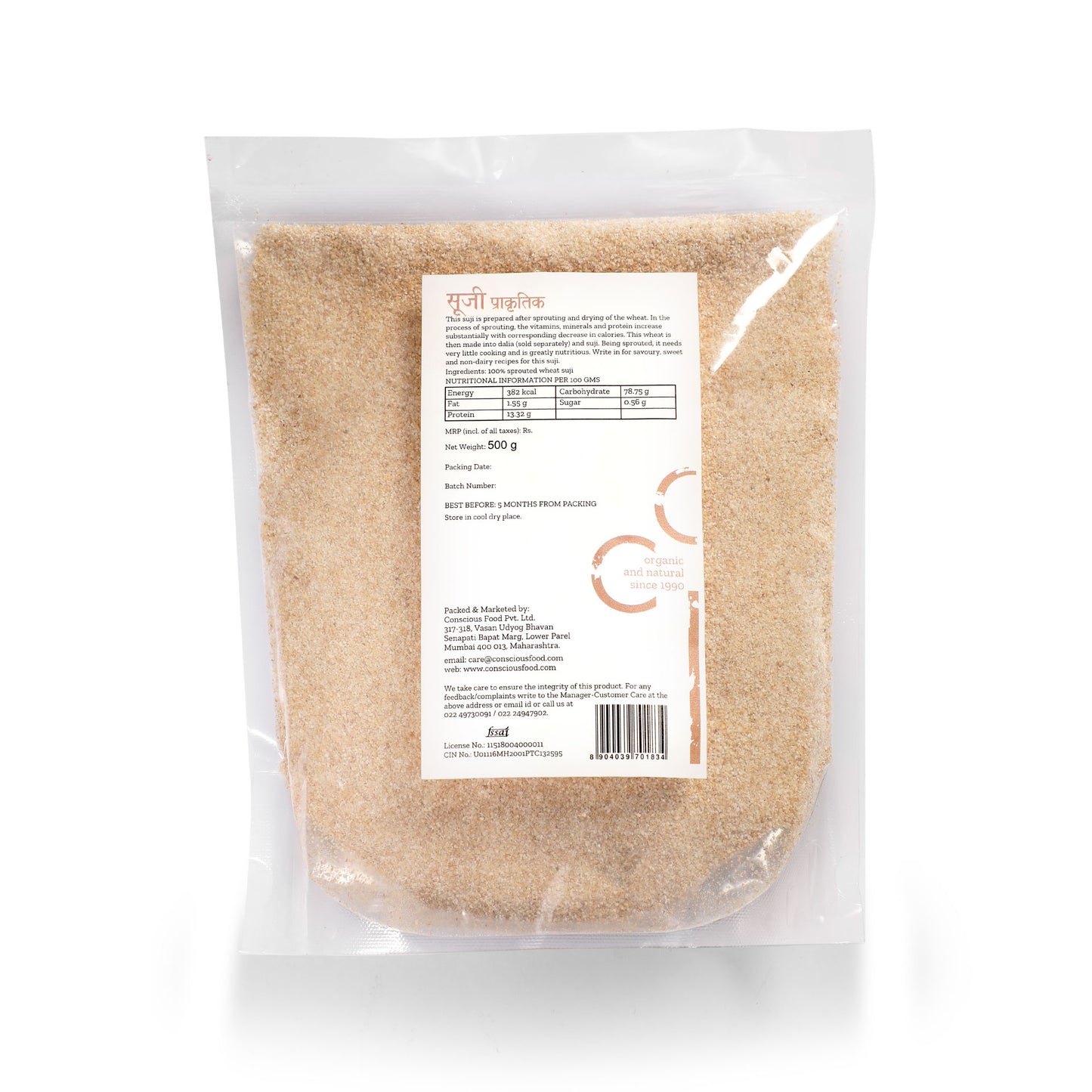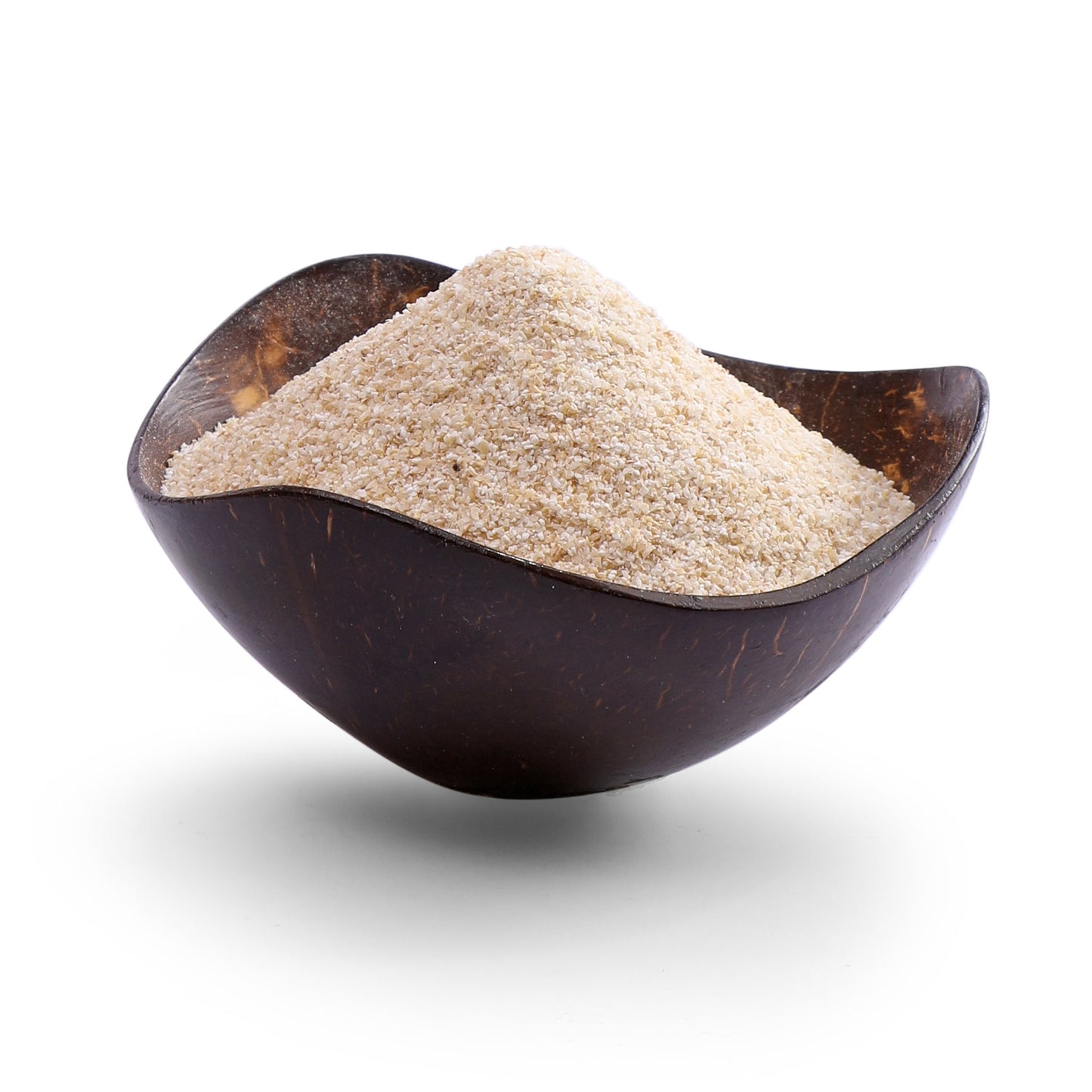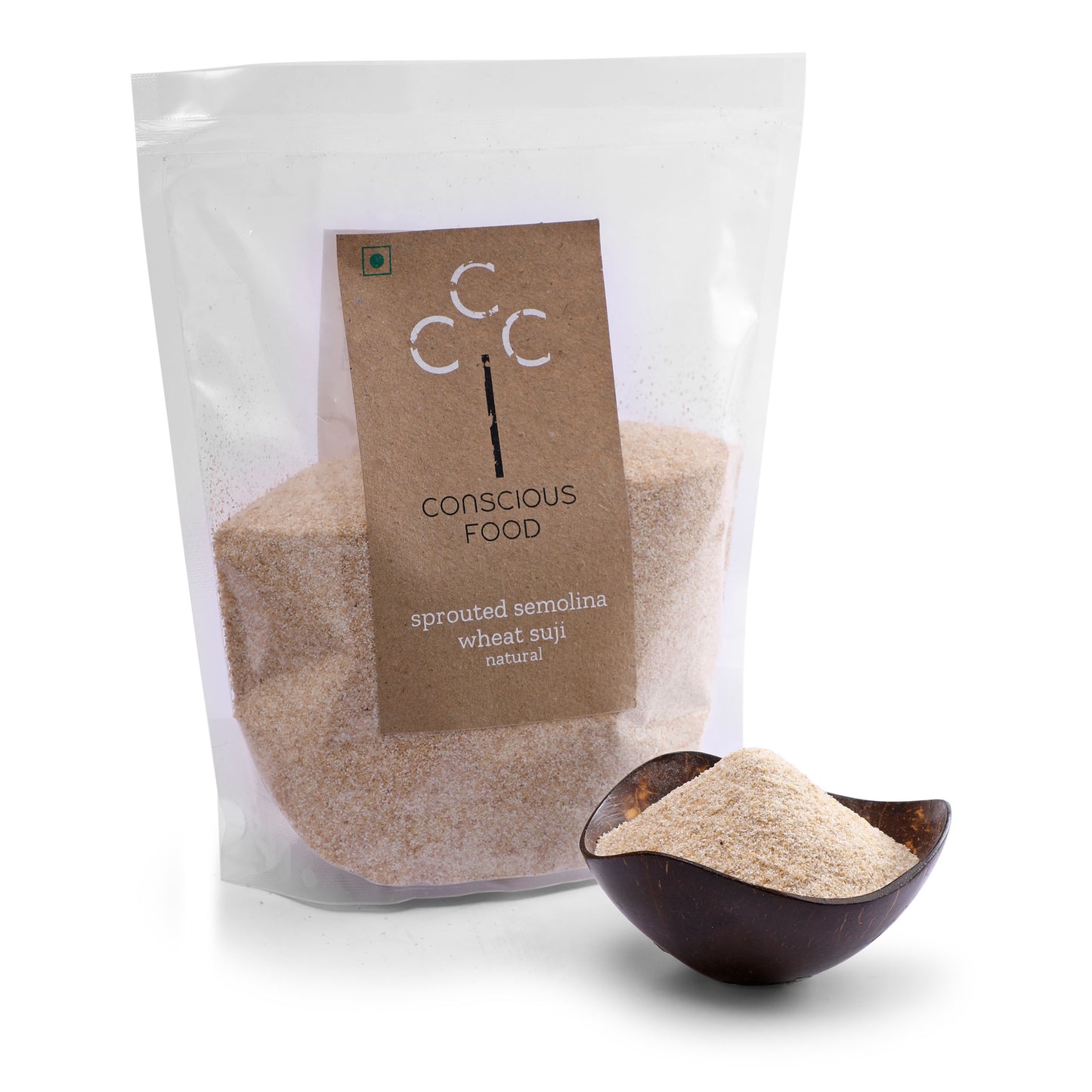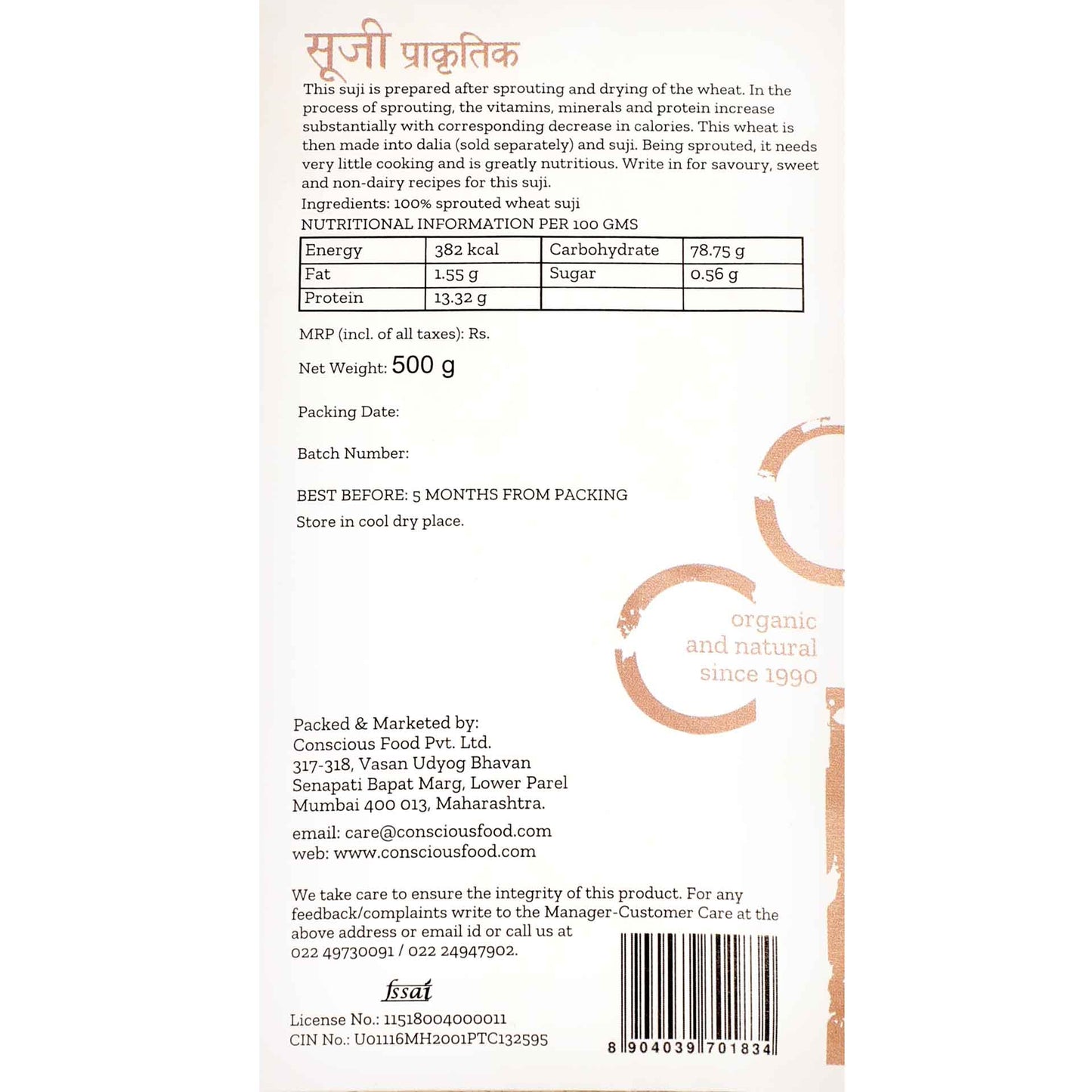 FAQ, Shipping & Returns
Where to buy Organic Staples Online?

Organic food helps in improving immunity and improves your health. Conscious Food offers a wide range of immunity boosting products such as Moringa, Turmeric Powder, Spirulina, Gir Cow Ghee, Wild Forest Honey, Amla Powder, Herbal and Masala Tea. Each of these is packed with immunity building properties that help you to detoxify your body and thereby boost health. You can check out several Immunity Booster Foods
Which is the best Online Organic Grocery Store?

Seasonal food and local food is known to be better for health. Conscious Food believes in providing fresh and the best quality food to its users. We guarantee iron-pounded spices, cold-pressed oils, chemical free grains, sustainable and local food, stone ground flours in our online grocery store across India with free shipping on orders above Rs.799/-. We believe in providing 24 hours shipping with efficient customer service. You demand, and we will provide. Work from home and Order online. Let us take care of you.
What are the benefits of Organic Food?

Organic Food has higher nutritive value, free from chemical additives, sustainable. It's natural, whole and unrefined and retains more nutrients than conventionally produced food. Not only is it free from the harmful effects of chemical pesticides and preservatives, it is also free from genetically modified organisms. With growing diseases and health concerns, people have opted for healthy eating through organic food. Organic food is suitable for elders, children, pregnant mothers. It helps the immune system to fight various diseases without the use of supplements. Organic food is preferred for the safe environment practices to keep it clean and suitable for everyone.
What is the difference between natural and organic food?

Organic foods are chemical-free, without any pesticides, without any fertilizers, No GMOs. They are certified and that's why called as Organic Foods. Our food products are ECOCERT certified products. Our Natural Foods are sourced organically and that's why they are wholesome, unrefined & unadulterated i.e. No artificial colors or flavors, No artificial preservatives.
How to boost your immunity?

Organic food helps in improving immunity and improves your health. Conscious Food offers a wide range of immunity boosting products such as Moringa, Turmeric Powder, Spirulina, Gir Cow Ghee, Wild Forest Honey, Amla Powder, Herbal and Masala Tea. Each of these is packed with immunity building properties that help you to detoxify your body and thereby boost health. You can check out several Immunity Booster Foods