Make mealtimes an important time where food is the focus. Do not encourage eating in front of the television or while playing video games – once again, it might appear easier to feed fussy kids while they are distracted, but if you persist, the pay-off in terms of long term habit formation is worth the effort.
Nutrition is a very important aspect of a child's development. It is often overlooked that  this is the time during which habits are formed, habits which serve us, habits that we fall back upon throughout our lives.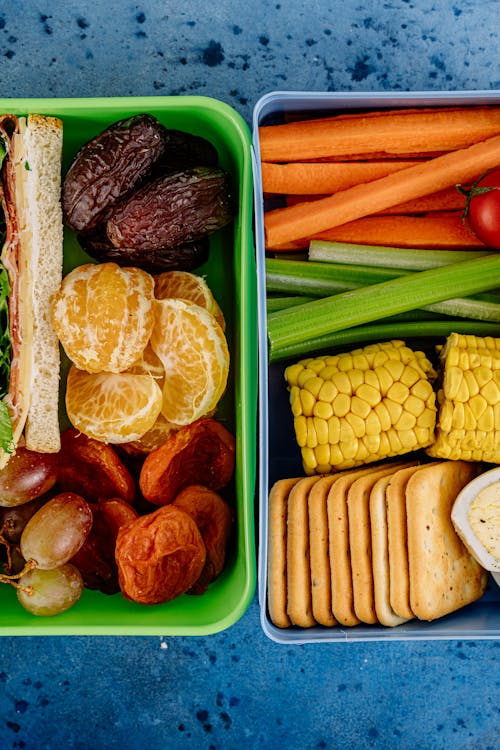 It's crucial to realise that infants have small tummies, lots of activity, and short attention spans. Make it simple to feed them, and ensure that everything they consume is healthy. Stock the house and kitchen with protein rich food for kids snacks that the kids can access easily and encourage them to help themselves. Simple examples are nuts (check first for allergies), seeds (pumpkin, sunflower, flax, sesame, can include all in a chikki) and fun things that they enjoy.
For fussy eaters, play games with them – they get a day to choose what they will eat and you get a day to tell them what they will eat. Involve them in the selection of the actual fruits and vegetables that will be cooked, describe the qualities of each food item, discuss the colours, count small things like peas, make challenges such as how many legume bits in a bowl  (e.g. guess how many kabuli chana or rajma in 1 bowl ) – involve them in the food preparation process.  This might take time to begin with, but over time, it will become a habit and the pay-off will be immeasurable in terms of kids being familiar with what is good food and how this healthy food makes them feel.
In terms of what the kids need – the focus nutrients at this stage are
Protein – 16-20 grams per day – easily available in dahi, milk, eggs, dairy, legumes, nuts
Healthy fats – 25-30 grams per day – easily available in nuts, milk, dairy, olive oil, avocado, olives, cheese, nut butters
Calcium – 600mg per day – available in milk, sesame, dark leafy greens, dairy, figs, nuts. Combine all calcium rich foods with dairy (any source of lactic acid) for calcium absorption.
Iron – 9-15 grams per day – available in dark leafy greens, raisins, gud, beets, nuts, legumes, broccoli. Combine iron rich foods with lemon or tomato (any source of citric acid) for iron absorption.
Magnesium – 50-70 mg per day – available in dark leafy greens, pumpkin seeds, cashews, peanuts, whole grains, brown rice.
Zinc – 5-7 mg per day – available in beans, nuts, dairy, cashew, lentils, yoghurt, mushrooms
Vitamin A – both retinol and beta carotene – available in dairy and all coloured fruits and veggies – carrots, beets, peppers, spinach, broccoli, squash (bhopla), sweet potato
Vitamin B – especially including vitamins thiamine, riboflavin, niacin, B6, B9, B12 - eggs, milk, yoghurt, legumes, broccoli, sunflower seeds
Vitamin C – 40mg per day - oranges, grapefruit, strawberries, broccoli
Conclusion
Make mealtimes a special occasion when food is the main course. Do not encourage watching television or playing video games while eating. Although it might seem simpler to feed picky children while they are occupied, the long-term benefit is worthwhile if you stick with it. Play activities and make mealtimes a special occasion when the focus is on food for picky eaters. Include them in choosing the specific fruits and vegetables that will be prepared. Although it could take some time at first, doing this will eventually become second nature.